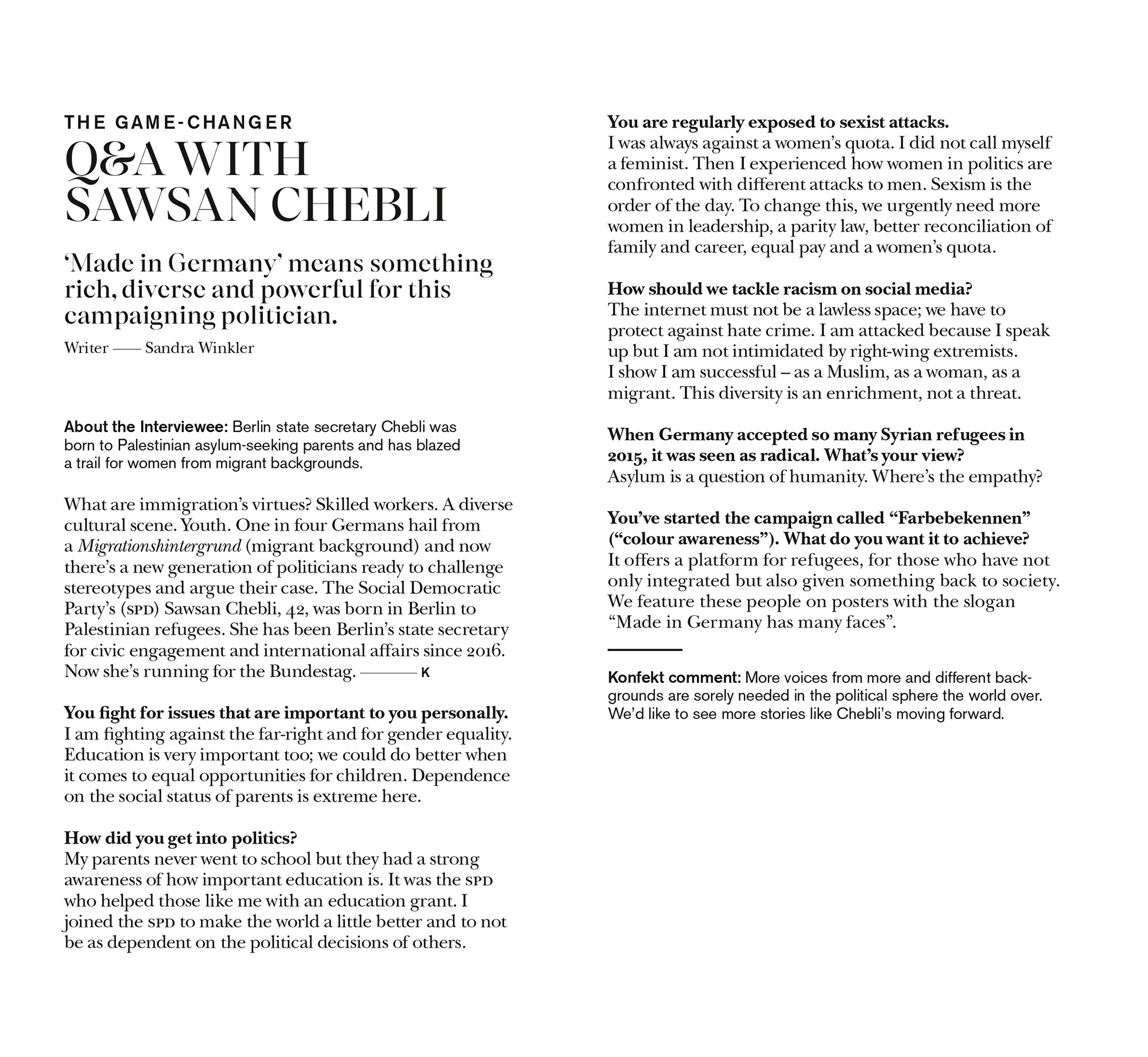 Q&A with Sawsan Chebli
About the Interviewee: Berlin state secretary Chebli was born to Palestinian asylum-seeking parents and has blazed a trail for women from migrant backgrounds.
What are immigration's virtues? Skilled workers. A diverse cultural scene. Youth. One in four Germans hail from a
Migrationshintergrund
(migrant background) and now there's a new generation of politicians ready to challenge stereotypes and argue their case. The Social Democratic Party's (SPD) Sawsan Chebli, 42, was born in Berlin to Palestinian refugees. She has been Berlin's state secretary for civic engagement and international affairs since 2016. Now she's running for the Bundestag.
You fight for issues that are important to you personally.
I am fighting against the far-right and for gender equality. Education is very important too; we could do better when it comes to equal opportunities for children. Dependence on the social status of parents is extreme here.
How did you get into politics?
My parents never went to school but they had a strong awareness of how important education is. It was the SPD who helped those like me with an education grant. I joined the SPD to make the world a little better and to not be as dependent on the political decisions of others.
You are regularly exposed to sexist attacks.
I was always against a women's quota. I did not call myself a feminist. Then I experienced how women in politics are confronted with different attacks to men. Sexism is the order of the day. To change this, we urgently need more women in leadership, a parity law, better reconciliation of family and career, equal pay and a women's quota.
How should we tackle racism on social media?
The internet must not be a lawless space; we have to protect against hate crime. I am attacked because I speak up but I am not intimidated by right-wing extremists.
I show I am successful – as a Muslim, as a woman, as a migrant. This diversity is an enrichment, not a threat.
When Germany accepted so many Syrian refugees in 2015, it was seen as radical. What's your view?
Asylum is a question of humanity. Where's the empathy?
You've started the campaign called "Farbebekennen" ("colour awareness"). What do you want it to achieve?
It offers a platform for refugees, for those who have not only integrated but also given something back to society. We feature these people on posters with the slogan
"Made in Germany has many faces".